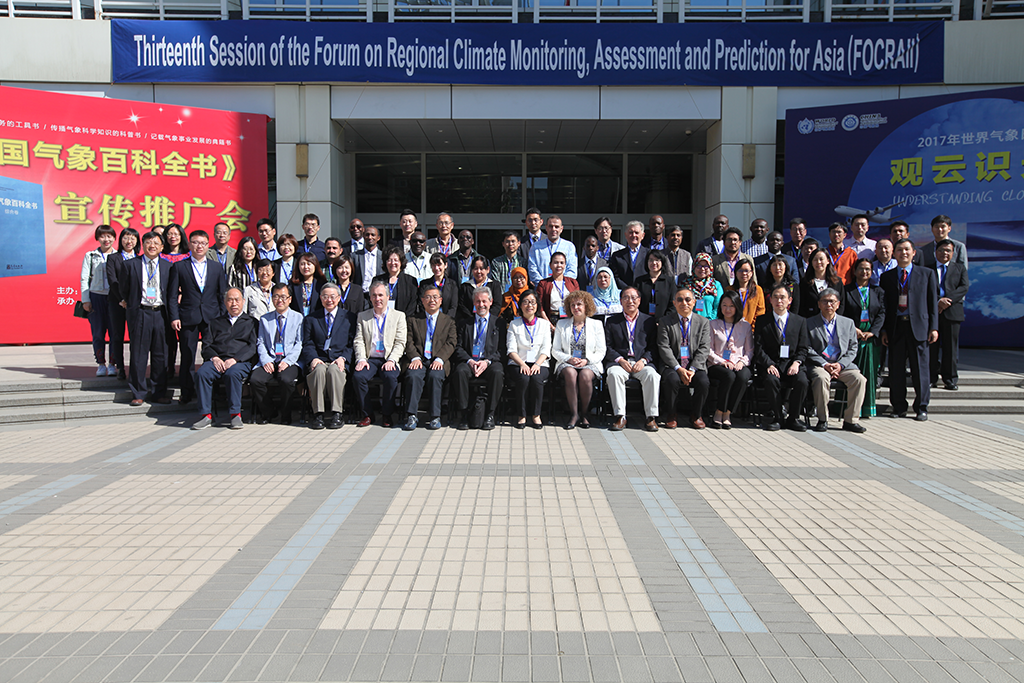 Sponsored by World Meteorological Organization (WMO) and China Meteorological Administration (CMA), cosponsored by WMO East Asian Monsoon Activity Center/BCC, and hosted by the Beijing Climate Centre of CMA, the Thirteenth Session of the Forum on Regional Climate Monitoring-Assessment-Prediction for Asia (RAII) was successfully convened during 24-26 April 2017 in Beijing, China. During the opening ceremony, Dr. Chao Qingchen, Deputy Director-General of Beijing Climate Centre (BCC), and Ms. Anahit Hovsepyan, Representative of WMO Secretariat, made address respectively.
Dr. Chao indicated that, in response to the pressing expectations of governments and general public, the Beijing Climate Centre and other Regional Climate Center, have the mandate to lead the National Meteorological and Hydrological Services in RAII, share more responsibilities for disaster prevention and mitigation, and sustainable socio-economic development. To follow up the "Belt and Road Initiative", the forum is also a practical attempt of the Nanning Initiative.
Ms. Anahit Hovsepyan conveyed greetings of WMO to all participants and express sincere appreciation to the government of China for organizing this important event. She highlighted the coordinating role of Beijing Climate Centre (BCC) in successful and sustainable implementation of FOCRA II. She indicated RCOF is widely recognized as one of the key elements contributing to GFCS implementation, in particular to three of its main pillars: to Climate Services Information System, User Interface Platform and Capacity Development..
The Forum discussed the outputs from various climate system models (BCC/CMA, JMA, and KMA) and used these outputs, to produce a most likely seasonal climate outlook for the RA II region for summer (June-July-August) of 2017. There were totally 90 participants from 31 countries/territories (Australia, Bangladesh, Canada, China, China Hong Kong, Cote D'Ivoire, Germany, Ghana, India, Indonesia, Iraq, Japan, Kenya, Lao PRD, Malaysia, Mongolia, Myanmar, Nigeria, Palestine, Peru, Philippines, Republic of Korea, Russia, Singapore, Thailand, Togo, Ukraine, United Kingdom, United States, Viet Nam and Zimbabwe).
In the summary session, many participants took the chance to comment on the Forum, highly appraised the exchange between climatologists and end-users, which greatly helped to improve climate services especially on seasonal forecast in Asian monsoon region. A "consensus" prediction of the summer climate in the RA II region was produced.
It is agreed that JMA will host the 5th EASCOF (East ASia winter Climate Outlook Forum) which is formerly the Joint Meeting for the Seasonal Prediction of the East Asian Winter Monsoon in either late October or early November of 2017.