CHENGDU, July 29 -- Rainstorms have left at least 66 people dead, 66 missing and more than 30,000 relocated from their homes since the beginning of June in the southern China provinces of Sichuan, Jiangxi, Hunan and Guizhou and Guangxi Zhuang Autonomous Region.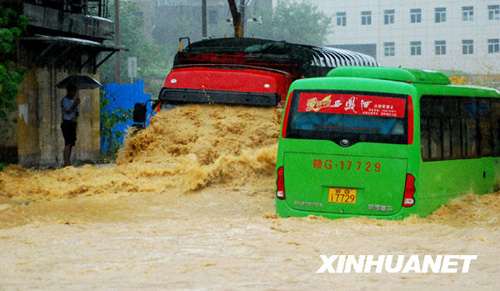 Severe torrential rain in Jiujiang, Jiangxi province on July 29
In Sichuan Province, landslides triggered by rainstorms killed 46 people and left 66 missing, said Wei Hong, deputy governer of the province.
The death toll from the landslide in Kangding County on July 23 had risen to 12 with 42 still missing, Wei said.
In Jiangxi Province, heavy rains forced the relocation of 17,500 people and floods destroyed 180 homes.
The rains had caused an estimated 342 million yuan (50 million U.S. dollars) in economic losses, the Jiangxi Provincial Government announced Wednesday.
Officials from the Guangxi Province Department of Land Resources have identified 1,868 high-risk sites where potential landslides pose threats to 190,000 people and 1.5 billion yuan worth of properties.
Landslides triggered by heavy rains had killed 17 people in Hunan Province. Another 13,300 people were forced to relocate to avoid floods and landslides, said the provincial government.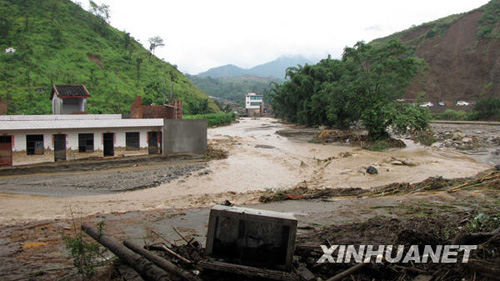 Flash flood occured in Miyi County, Sichuan province on July 28
In Guizhou Province, disasters triggered by heavy rains from July 23 to 28 killed three people and flooded the homes of 490,000 others.
Meteorological observatory stations in Hunan and Jiangxi issued rainstorm alerts Wednesday.
China Meteorological Observatory has warned of further heavy rains in south Sichuan, west Jiangxi, south and north Hunan and southeast Guangxi until the end of July.